TBS5301 USB2.0 HDMI HD Video capture card with HDMI 1.4 port, completely support full HD Video and Audio capture and playback. Compact in size and equipped with a USB 2.0 port, the device is a practical and easy-to-use USB 2.0 capture solution. It provides HDMI input of highest quality, and meets the HDMI 1.4 standard, satisfies the 1080 50/60p resolutions and H.264 hardware compression, you can easily capture and encode signals from different kinds of device without limitation. With the LAN port, TBS5301 allows you to stream the signals out directly without PC, makes it a device portable and easy to use with or without PC.
TBS5301 is suitable for recording, editing, video conferencing, and streaming applications. windows driver is BDA architecture compatible with DVBDream,DVBView..., Linux driver is V4L architecture compatible with dvblast,tvheadend,astra....
Record your favorite show and keep the wonderful memories.
TBS5301 won't let you slip any splendid show.
Compatible with 1080 50/60P Full HD Input Signals
Compliant with HDMI 1.3, HDMI 1.4a.
Hardware encoding, H.264 hardware compression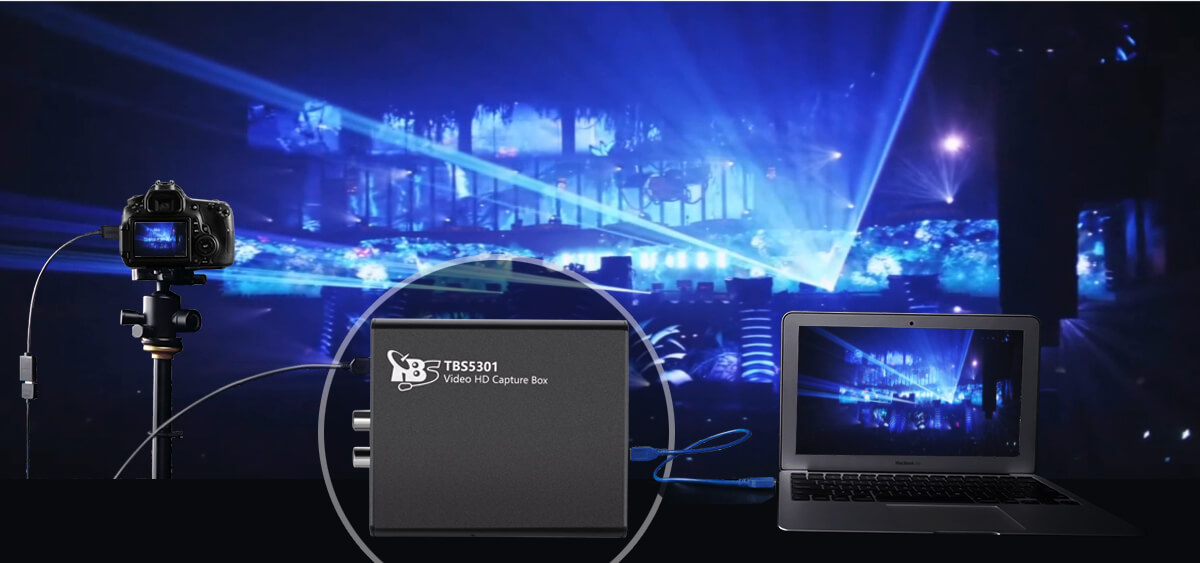 Ideal item for super gamer to record or re-stream the gameplay at the same time.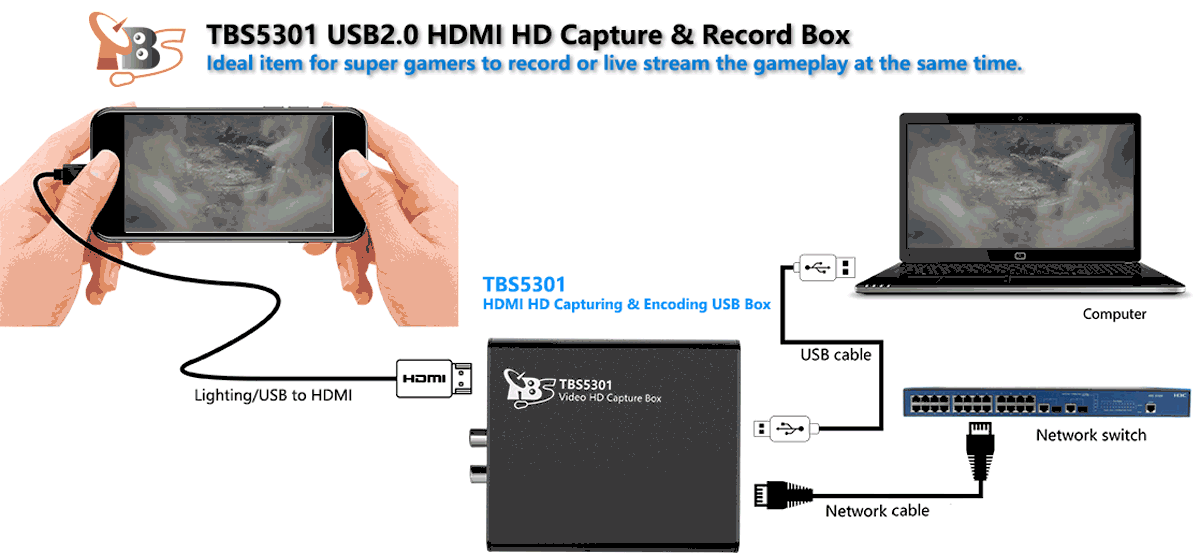 Main Features:
Real HDMI Digital Interface
Compatible with 1080 50/60P Full HD Input Signals
Compliant with HDMI 1.3, HDMI 1.4a 3, HDCP 1.4 specifications
Hardware encoding, H.264 hardware compression
Supports UDP/RTP
Supports 20 bits DeepColor
Automatically Detecting Input Signal
Applications:
IPTV Servers
Datacasting and monitoring
Live TV Capture and streaming
Specification:
Module
TBS5301
Interface
USB 2.0, 100M Ethernet
input
1xHDMI 1.4a
output
TS
Recording Mode
Hardware compression, real time mode
Encode Format
H.264
Audio input
HDMI Embedded audio & audio line in
Update
Firmware could be updated.
OS and Driver
Windows XP / Vista / Windows 7 /Windows 8 / Windows 10/Linux
Temperature
0 ~ 60 ℃
Consumption
5w
Dimension
Card Size
103x88x22 mm
Package box size
 
Weight
 
Package content
1x TBS5301
 
1x USB cable
 
1x Power adapter
HDMI Input Video Format Support:
| | | | | |
| --- | --- | --- | --- | --- |
| Horizontal size | Vertical size | Rate | Interleave/Progressive) | Remark |
| 1920 | 1080 | 60/59.94 | P | ※ |
| 1920 | 1080 | 50 | P | ※ |
| 1920 | 1080 | 60/59.94 | I |   |
| 1920 | 1080 | 50 | I |   |
| 1920 | 1080 | 30/29.97 | P |   |
| 1920 | 1080 | 25 | P |   |
| 1920 | 1080 | 24 / 23.98 | P |   |
| 1280 | 720 | 60/59.94 | P |   |
| 1280 | 720 | 50 | P |   |
| 1280 | 720 | 30 / 29.97 | P |   |
| 1280 | 720 | 24 / 23.98 | P |   |
| 720 | 483/480 | 59.94 | P |   |
| 720 | 576 | 50 | P |   |
※: Before encoding ,1920*1080 60P/50P convert to 1080 50/60i first