All in one IPTV Multiple inputs H.264/H.265
IPTV Transcoder (TBS8510-Pro)
Streaming / Encoding / Transcoding
All in one IPTV

TBS8510-Pro is a real-time multi-channels/format transcoder, which supports to convert media files from their source format into the best-possible-quality streams to each user's specific device. It allows to convert streams to any MPEG-4 or H.264/H.265 format, bitrate and resolution.
TBS8510-Pro real-time transcoder is a cost-effective IPTV/OTT headend, as it supports 30 HD channels or 80 SD channels transcoding, with protocol of UDP, RTP, RTMP, HTTP, HLS, and Media Files.
Based on the powerful hardware, TBS8510-Pro real-time transcoder enables to deliver impressive images to various servers, such as Adobe Flash Server, Wowza Server, Windows Media Server, Apples HTTP Live Streaming and so on.
TBS8510-Pro can be easily managed through NMS system and has become an ideal solution for operator to provide high quality video transcoding. It is a real multi-channel/formal transcoding which answers all market requirements and is thus the suitable solution to Terrestrial, Satellite, Cable, IPTV networks.
For TBS8510 Pro-Dual GPU version, it does not support embedding DVB tuner cards. If you want to use with DVB tuner card, you can consider to use TBS8510.
Key Features:
* High performance transcoder supports to convert up to 30 * Full HD or 80 * SD profiles.
* Input available: IP.
* Optimized for 1000Kbps for SD, 1800Kbps for HD 720P, 2500Kbps for HD 1080p.
* Supports HEVC / H.265 transcoding.
* Baseline, main profile and high profile with variable GOP.
* Multiple codec, Protocol, Bitrate Resolution, Profile per channel.
* GbE IP output: UDP, RTMP, Pull/Push HTTP, HTTP, Live Smooth (HLS), FTP M3u8 playlist files.
* Flexible GOP structures with Reference-frame and B-frame edit.
* Frame rate down and up conversion.
* High quality pre-processing including filtering, deinterlacing, cross scaling, image insertion.
* Support variable Bit Rate (VBR) encoding maximizes adaptive streaming video quality and bandwidth efficiency.
* Based on embedded Centos 7 Linux.
* DVB Subtitle and Logo insertion.
* Parameter templates settings and imports
* Easy configuration via Web UI
* Designed for secure 24*365 operation
Application:
1.OTT IPTV providers (Internet TV)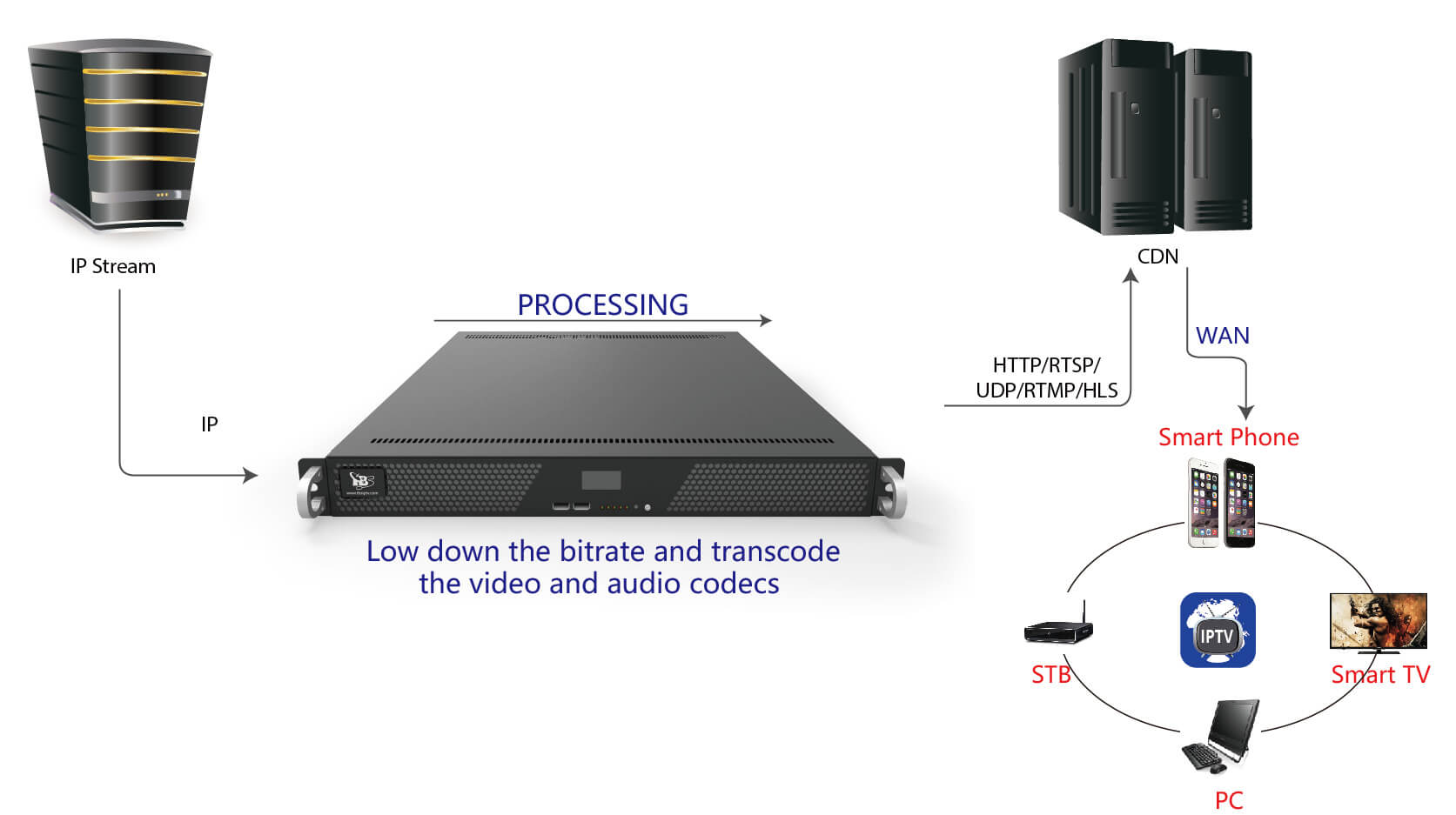 2.CATV networks (cable television)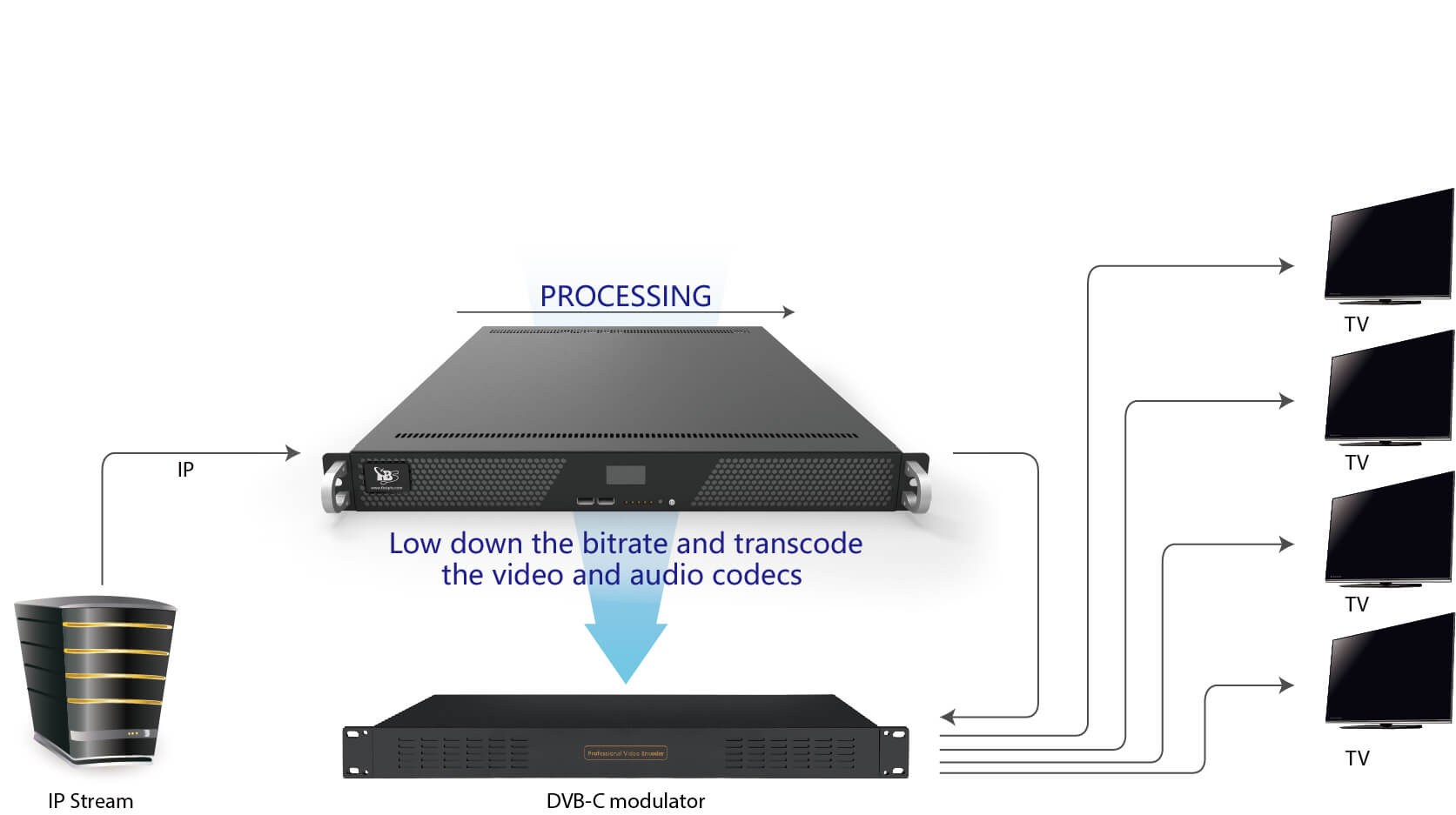 3.IPTV system(Hotel,) support Mobile Device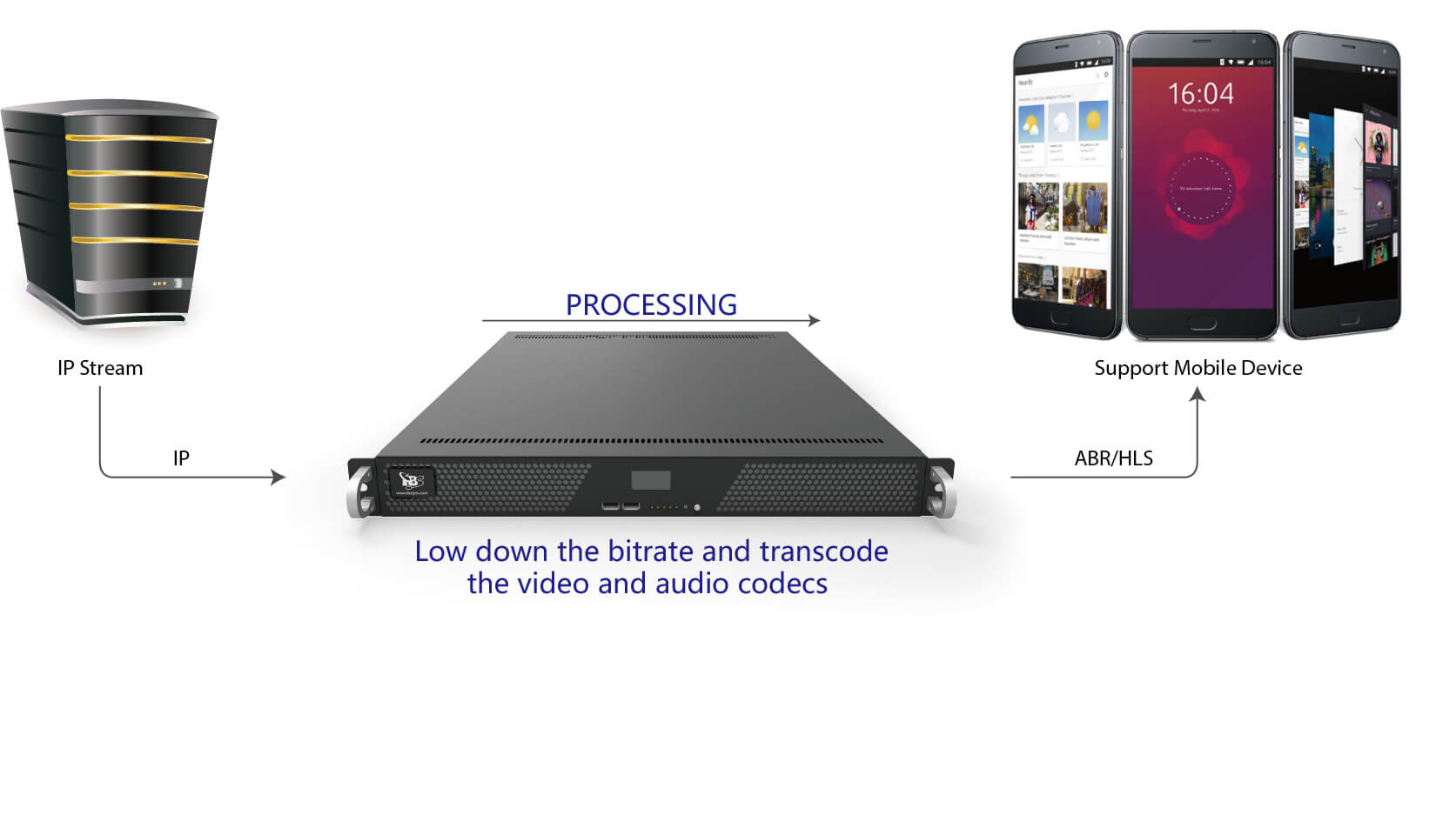 Specifications:
Interface
2xRJ45, 1000M

Base-T2

2xPCI-E slot
DDR
16G
Input
Input Net Stream
UDP, RTP, HTTP, HLS, RTSP, Media Files
Video codecs
MPEG-2, AVC / H.264, HEVC / H.265
Resolution
1920x1080P, 1920x1080i, 1280x720P, 720x576i, 720x480i, 480x576, 544x576, 640x576,704x576
Audio codecs
AAC, MP2, MP3, AC-3
Output
Output types
UDP, RTMP, HTTP, HLS(ABR)
Video codecs
AVC / H.264, HEVC / H.265
Resolution
1920x1080P, 1920x1080i, 1280x720P, 720x576i, 720x480i, 480x576, 544x576, 640x576, 704x576
Audio codecs
AAC
Rate Control
CBR VBR
Transcoder
up to 80 SD / 30 HD1080 AVC(H.264) streams
up to 60 SD / 28 HD1080 HEVC(H.265) streams
Power Consumption
Less than 200W
Dimensions
592mm*438mm*53mm
Weight
22 kg