Overview:
TBS2605 is a professional 4K/H.265 HDMI encoder, which is also our newest HD audio & video encoding device with powerful functions. It supports real 4K max 3840 x 2160P@30fps HDMI inputs.
TBS2605 HDMI Video encoder not only supports 2 channels 4K or 5 channels H.265 encoding, but also supports multiprotocol output. Each channel supports simultaneous output of HTTP/HLS/RTMP(RTMPS)/RTSP/UDP/SRT protocols, which is ideal for customers who need to use different protocols output.
TBS2605 is coupled with Web UI managing system and telnet remote access, and equipped with video mix and split screen display function, which provide users flexible choices to control the encoder at anytime or anywhere.
The product can be applied to education, health care, IPTV, conference, distance education, news interview, banking, transportation and other industries.
NDI®|HX2
TBS2605 has been upgraded to integrate with NewTek's royalty-free NDI®|HX2 technology, converts the HDMI input signals into full-bandwidth NDI streams separately, enabling users to connect HDMI-equipped sources to NDI-enabled media networks, devices and applications effortlessly.

Features
5 x HDMI 1.4 inputs

Support Network streams in for video mix or protocol converting

H.265/H.264 Encode

Multiple protocol outputs: HTTP/HLS/RTMP(RTMPS)/RTSP/UDP (Multicast, Unicast)/SRT

Support video mix and split screen function ( 1, 3, 4, 9 screens for your choices )

Native official Newtek SDK-based development ensuring TBS2605 access to last generation NDI®|HX2 SDK and updates.

NDI streams output thru local switch and web user interface

The output NDI®|HX2 streams can be automatically detected by any NDI-enabled media networks, devices and applications

Support OSD logo, text, mosaic

Single LAN port output and management

WebUI control

H5 Player

Video Rotator: 0 degree/90 degrees/180 degrees/270 degrees

LCD display for IP, encode status and bitrate info
Why you choose TBS2605 ?
Supports 5 channels 1080P 60hz encode or 2 channels 4K encode
3840 x 2160P@30fps. Max Resolution (4K/UHD)
Real-time encoder supporting resolutions up to 4K with HEVC and H.264 encoding.
Efficient encoding leads to bandwidth savings, even at high resolutions.
Ideal for future-proofing workflows that need to move to 4K UHD and for those that require the highest video quality.




Multiprotocol output
Compliant with HTTP/HLS/RTMP(RTMPS)/RTSP/UDP/SRT protocols
Each channels have multiple protocols for outputting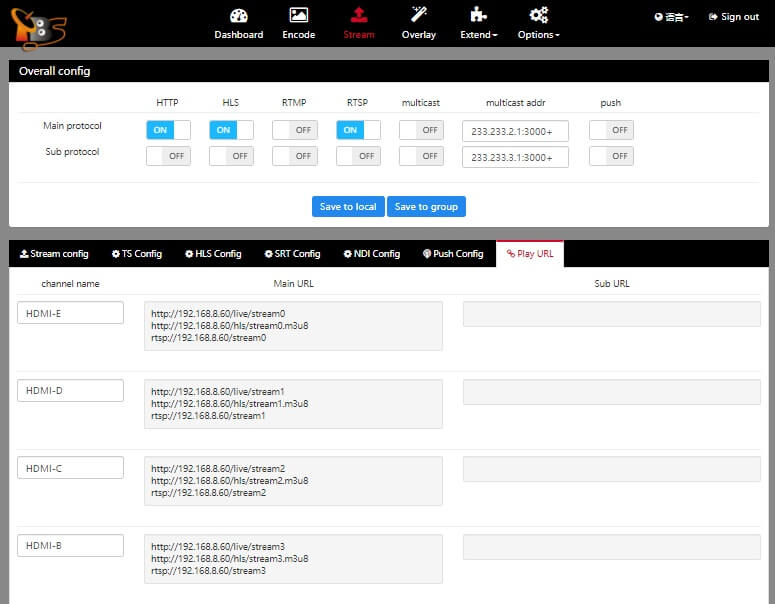 Video mix function, multiplex and split screen display
Video mix function allow you to choose the channels from HDMI and IP , merges them together and provide one new TS, then decode them , with the screen display function , offer users flexible choices to control and monitor the channels at anytime and anywhere.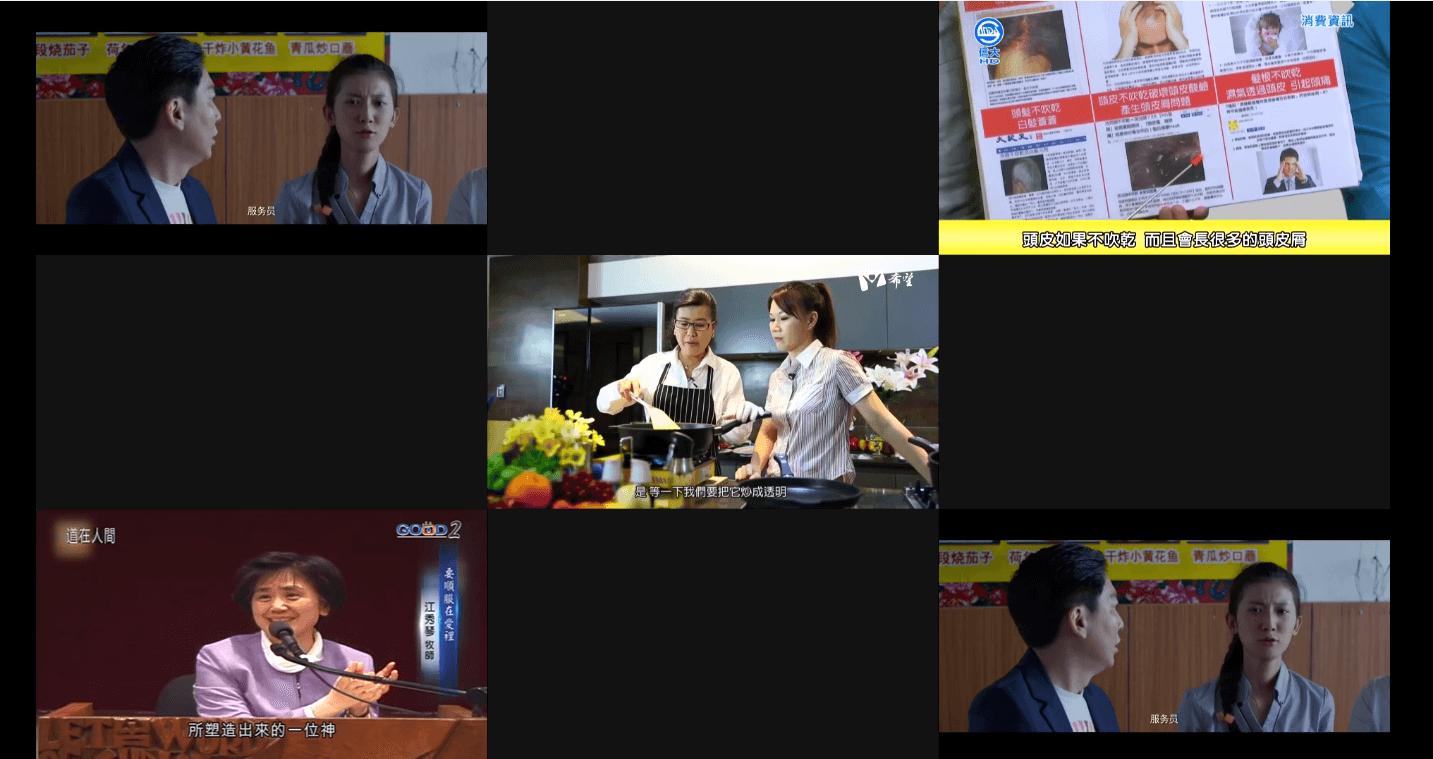 Single LAN port output and management
TBS2605 supports multiple HDMI inputs with only one LAN port for output and management, which greatly save source and space for you. And reliable Web UI let you easy to setup and manage.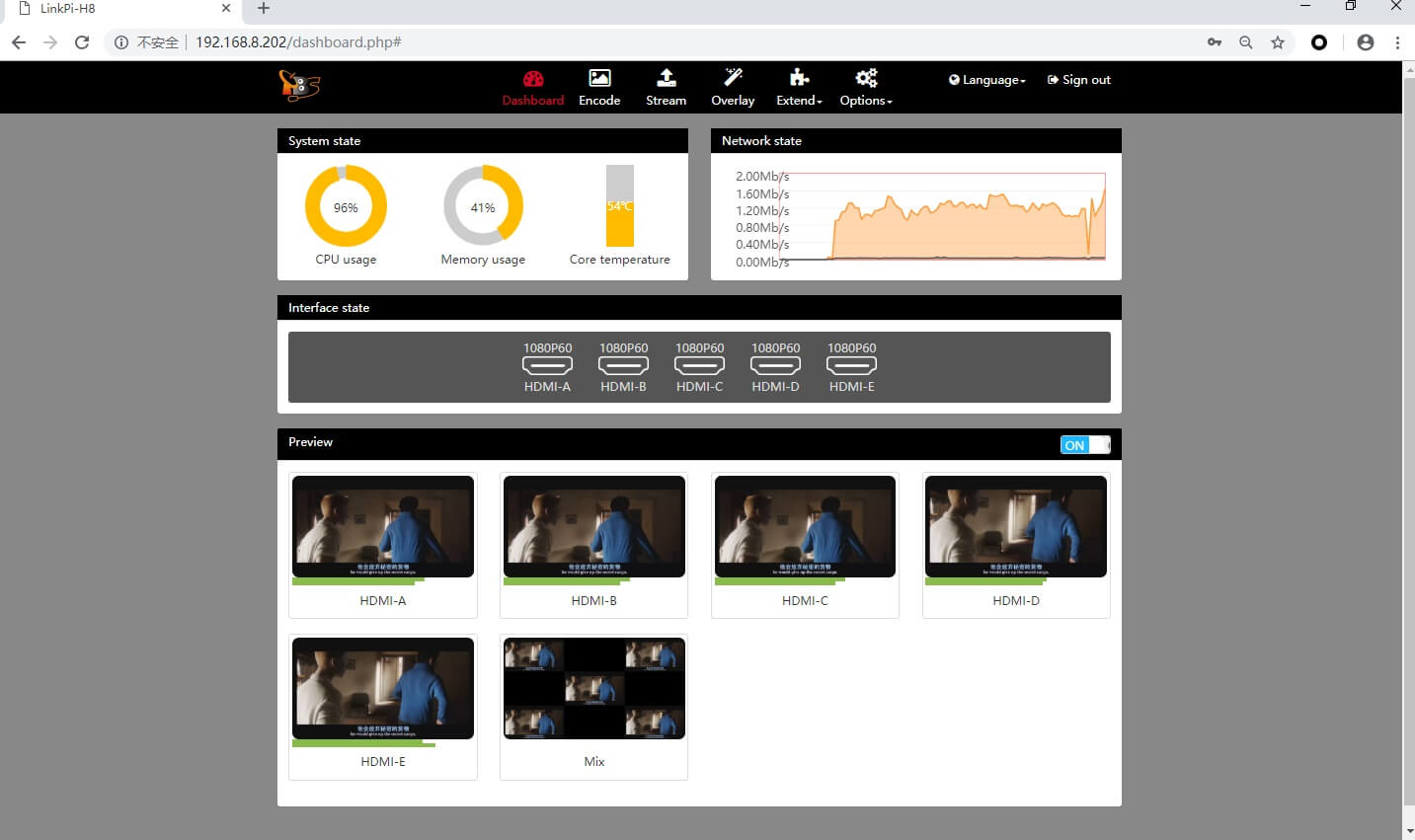 Application
IPTV - Topology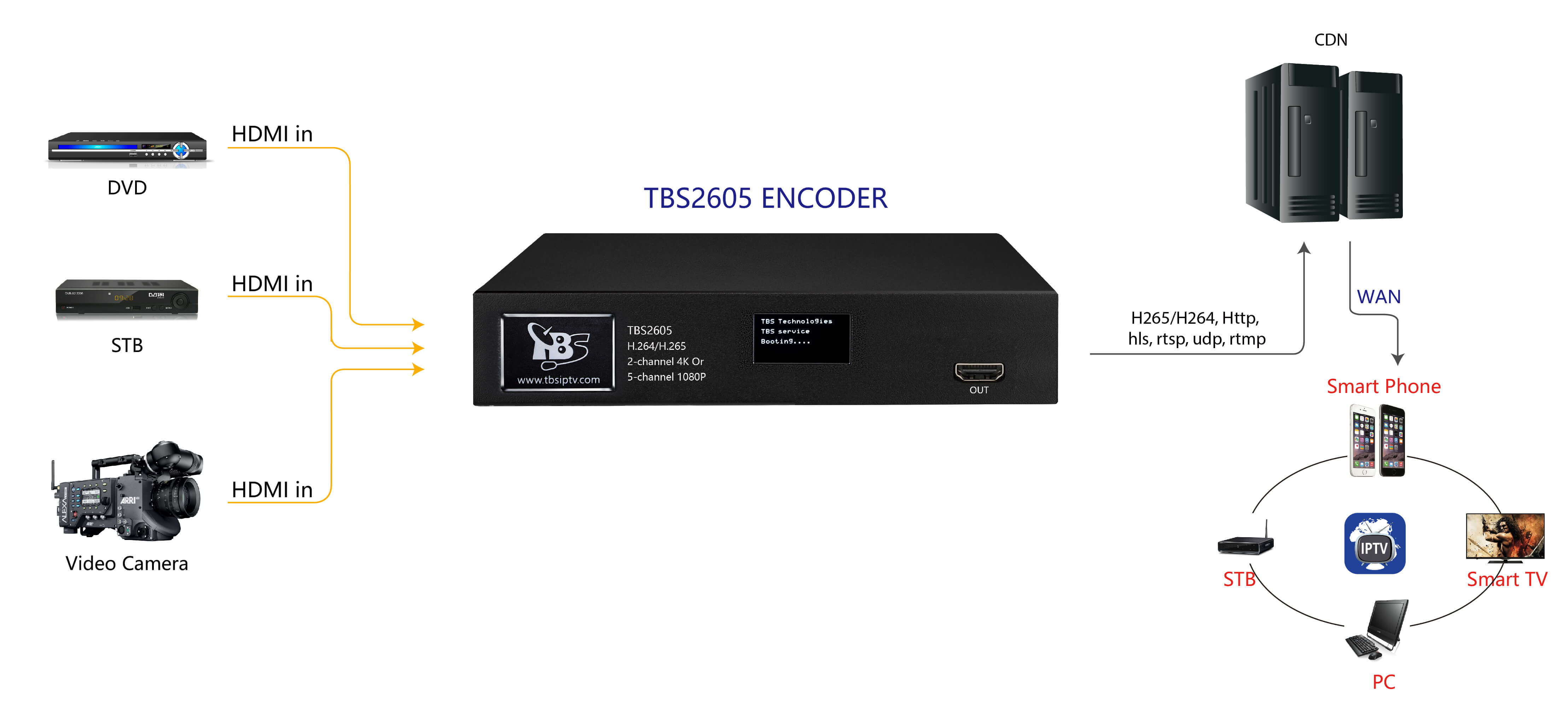 Video Mix and monitoring - Topology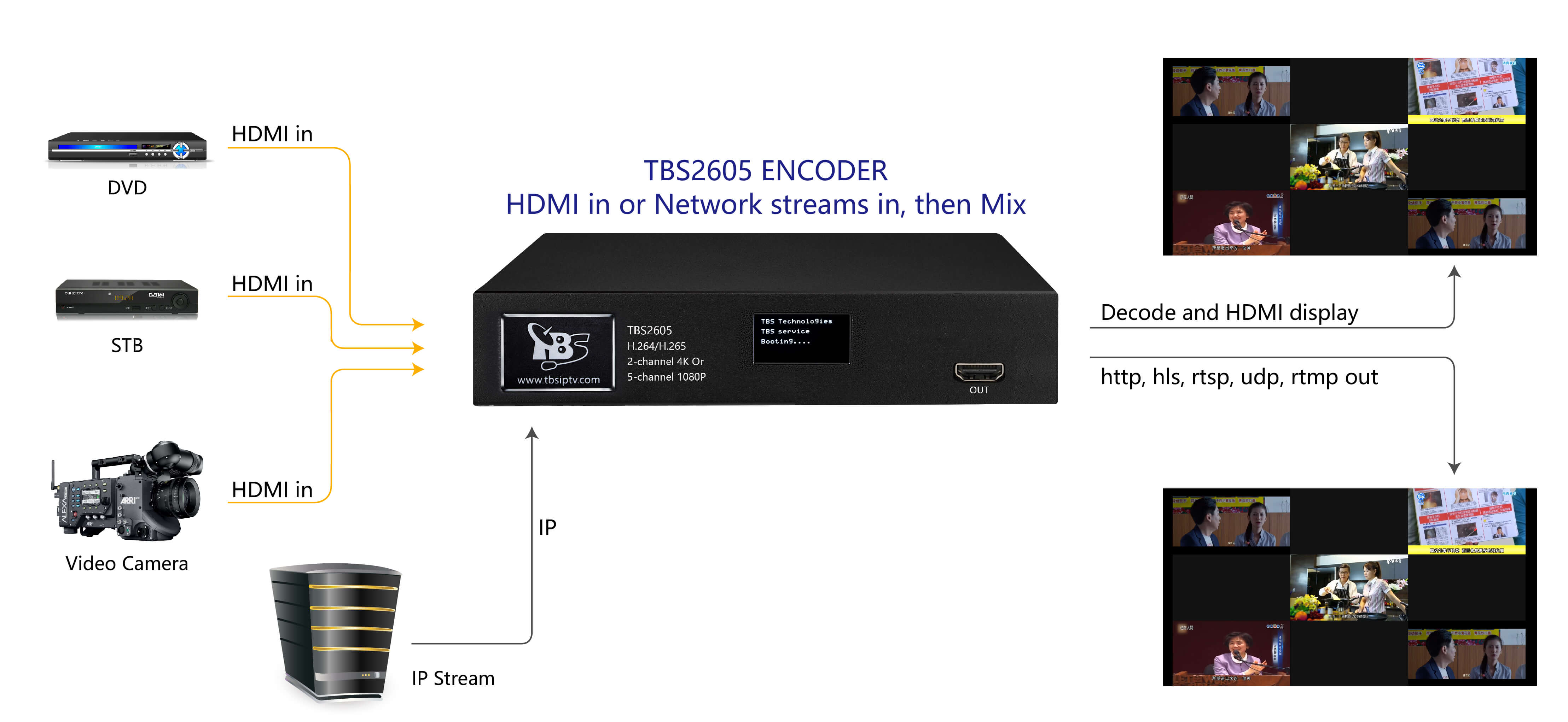 Live streaming to social media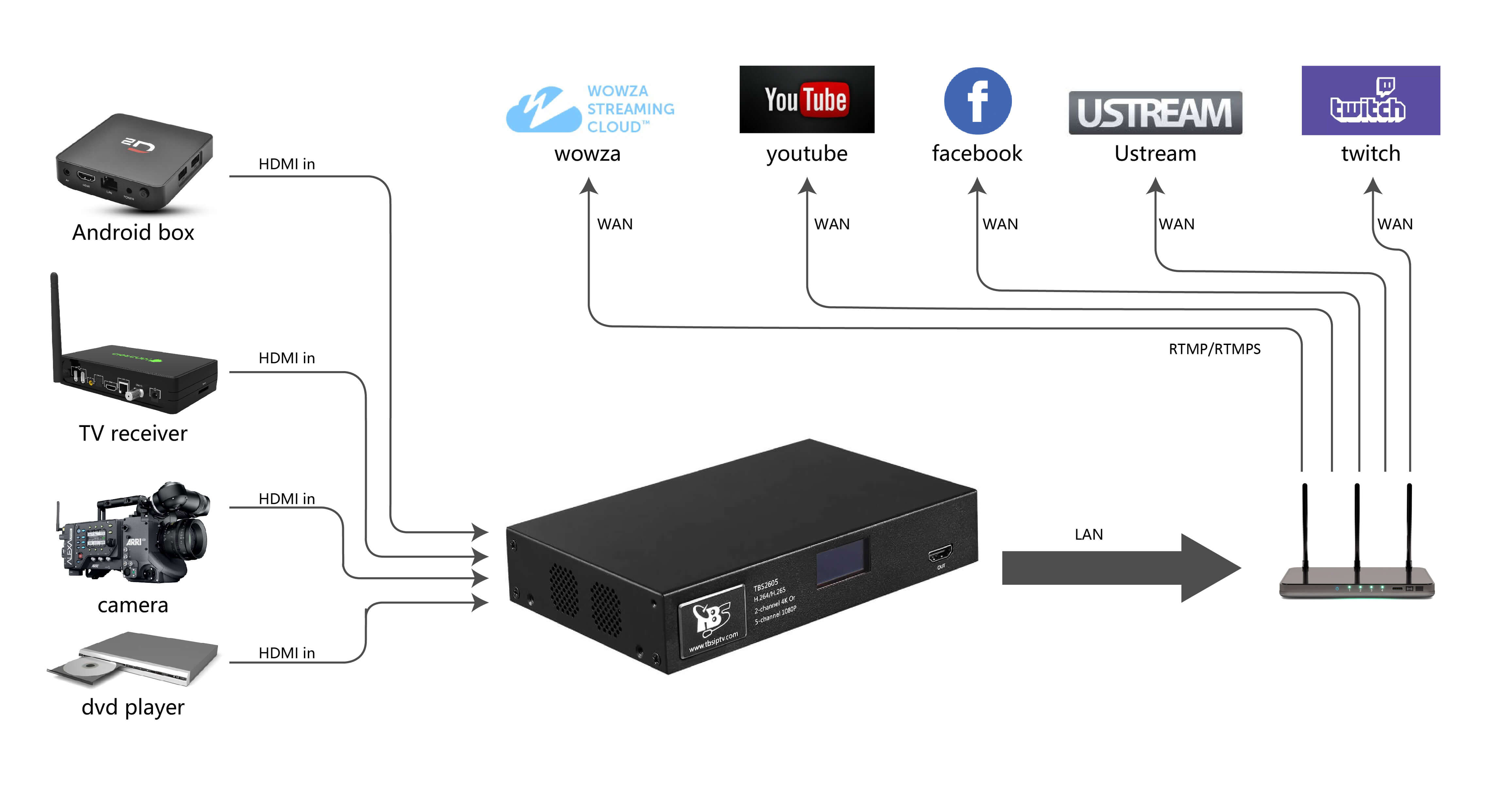 Specification:
Model Number
TBS2605
Video Input
5x HDMI 1.4
Audio Input
HDMI embedded audio
Video
Resolution
Input: 3840x2160p_30hz, 1920x1080p_60hz, 1920x1080_50hz, 1920x1080i_60hz, 1920x1080i_50hz, 1920x1080p_25hz, 1920x1080p_24hz, 720p_60hz, 720p_50hz, 576p, 480p, and ect.
Output: 3840x2160p@30fps, 1920x1080p@60fps, 1920x1080p@50fps, 1920x1080p@30fps, 1920x1080p@25fps, 720p@60fps, 720p@50fps, 1024x576, 850x480, 720x576, 640x480, 360x240, customized, and etc.
Encode
H264 base line, H264 Main, H264 High, H265 Main
Data Rate
0.5Mbps~20Mbps
Rate Control
CBR/VBR
Protocol
NDI | HX / HTTP / HLS / RTMP(RTMPS) / RTSP / UDP / SRT
Audio
Encoding
AAC, MP3, MPEG2, PCMA
Sampling rate:
16K, 32K, 44.1K, 48K
Channel
Stereo (R + L) or Mono (R/L)
Sampling precision
16 bit
Data Rate
32Kb/s ~ 256Kb/s
Network Stream Input
Video
H.264 / H.265
Audio
MPEG 1/2, MP3, AAC
Protocol
NDI | HX / HTTP / RTSP / RTP / UDP (multicast, unicast) / RTMP(pull)
NDI® Interface:
NDI® Channels enable
NDI®|HX2 output stream being detected automatically.
System
Ethernet / RJ45
1000 Base-T Ethernet interface
System
WINDOWS XP/VISTA/SERVER2003/SERVER2008/WIN7 32 and WIN7 64; LINUX
Control
WEBUI
General Spec.
Dimension
185 * 119 * 36mm(length, width, height)
Power
less than 15W
NDI® is a registered trademark of Newtek