TBS2603au
NDI®|HX2 supported H.265/H.264 HDMI Video Encoder & Decoder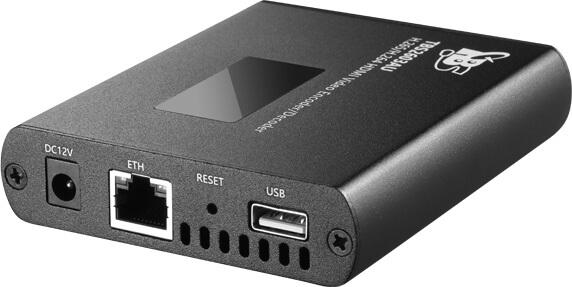 TBS2603au is a NDI®|HX2 supported H.264/H.265 HDMI video Encoder, a professional HD video Encoder/ Decoder, and a HDMI/USB video recorder.

As an Encoder, TBS2603au allows to send your video source through the local network, over Ethernet in normal protocol of HTTP/HLS/RTSP/RTP/UDP/RTMP/RTMPS/SRT, or in NDI®|HX2 streams for use with other NDI®|HX2 compatible systems.

As a Decoder, TBS2603au supports video source from HDMI video, IP streams or NDI®|HX2 streams.
It supports "H.265 Main Profile, Level 4.1 & H.264 Baseline/Main/High Profile Level 4.2" decode. Up to H.265 Main 1920x1080@60fps decode.

NDI®|HX2 products use a high efficiency, low bandwidth form of NDI® to deliver full resolution, full frame rate video over bandwidth-restricted local and wide area networks with the option to use 100 Megabit Ethernet or Wi-fi technology.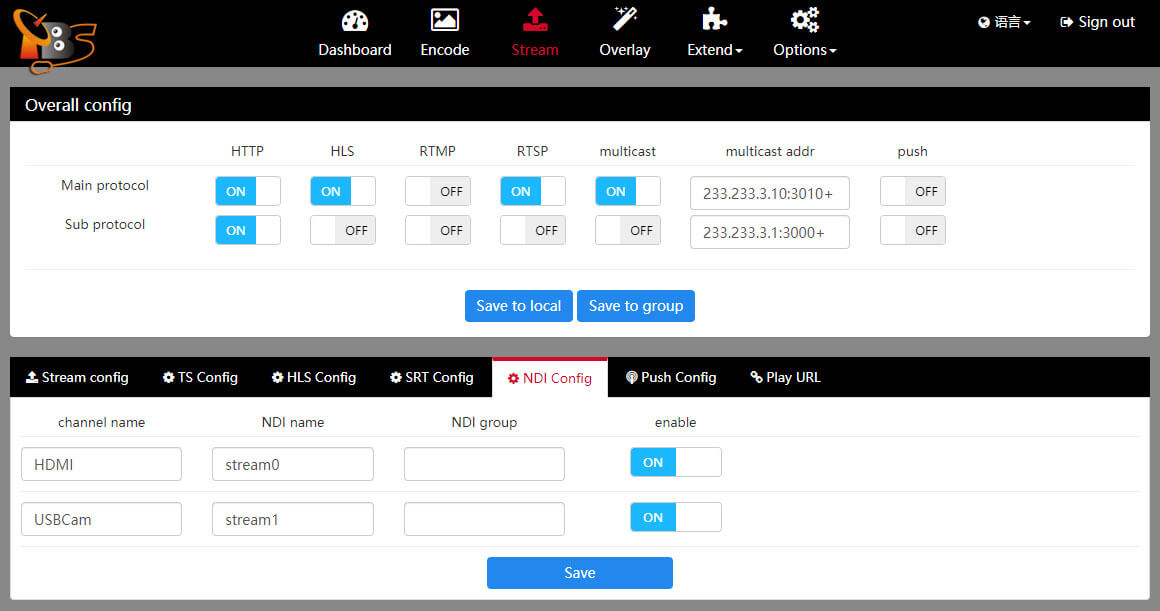 Features:
Visual input (Preview)
HDMI video input, UVC Camera input or NDI®|HX2 streams input.
NDI®|HX2 streams output, HDMI video out
H.264/H.265 Encode & Decode, up to 1920x1080P_H.265@60fps Encode. And H.265 Main Profile, Level 4.1 Decode
HDMI-embedded & Line-in Audio input
AAC, MP3, MP2, PCMA audio encoding
Support video recording via USB, in the format of MP4/TS/FLV/MKV/MOV
Bit rate is adjustable 500kbit/s -20Mbit/s
Support HTTP, HLS(m3u8), RTP/UDP Unicast, Multicast, RTSP, RTMP/RTMPS, ONVIF, SRT
Support inserting Logo, Text, Mosaics and Time Display to the video
Support output displayed video resolution and frame rate setting (max 1920x1080P@60hz)
Support HDCP and HD blue-ray
Flexible and friendly webpage control
Support ROI (Region of Interest), up to 8 regions
H5 Player
Video Rotator: 0 degree/90 degrees/180 degrees/270 degrees
Stable and effective, support 7 x 24h working time
Application:
As HDMI encoder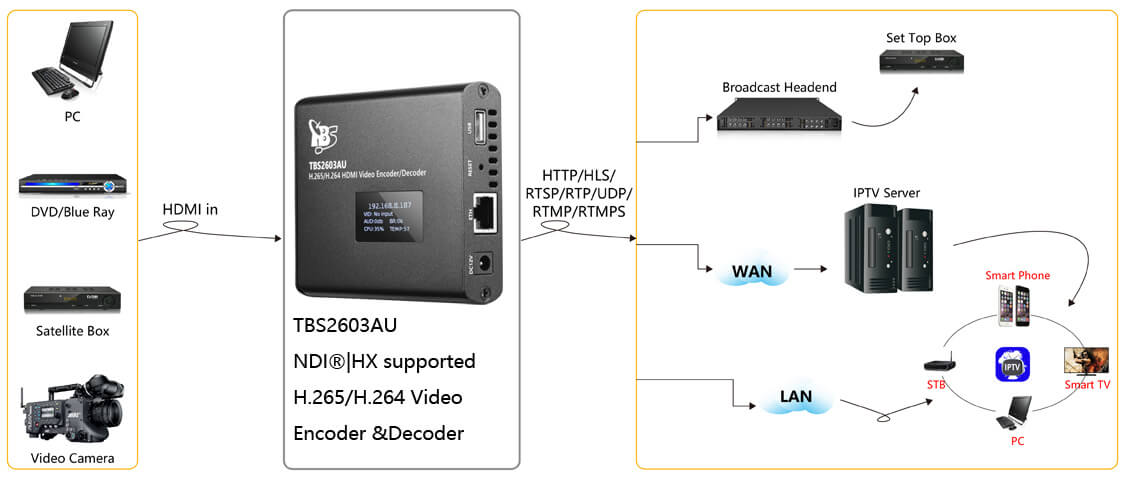 As HDMI Decoder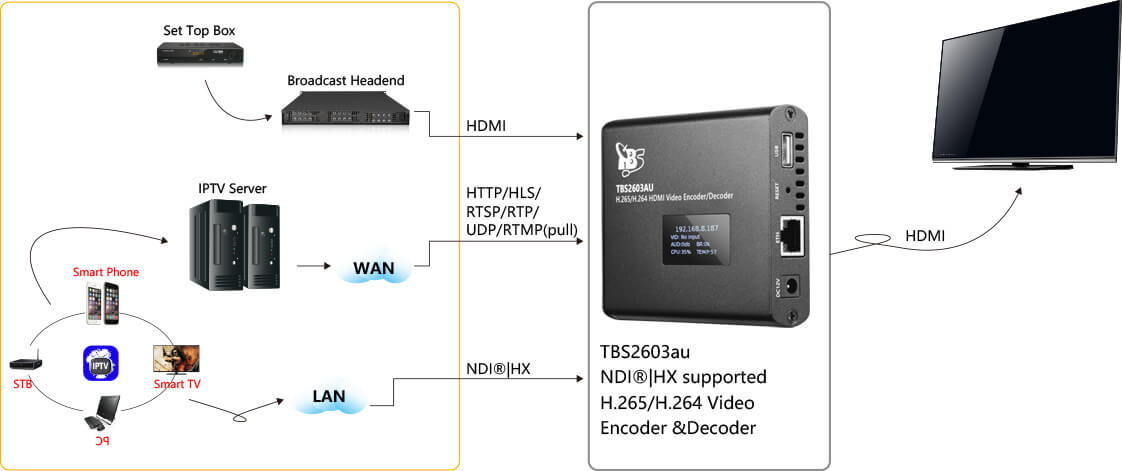 Live streaming to social media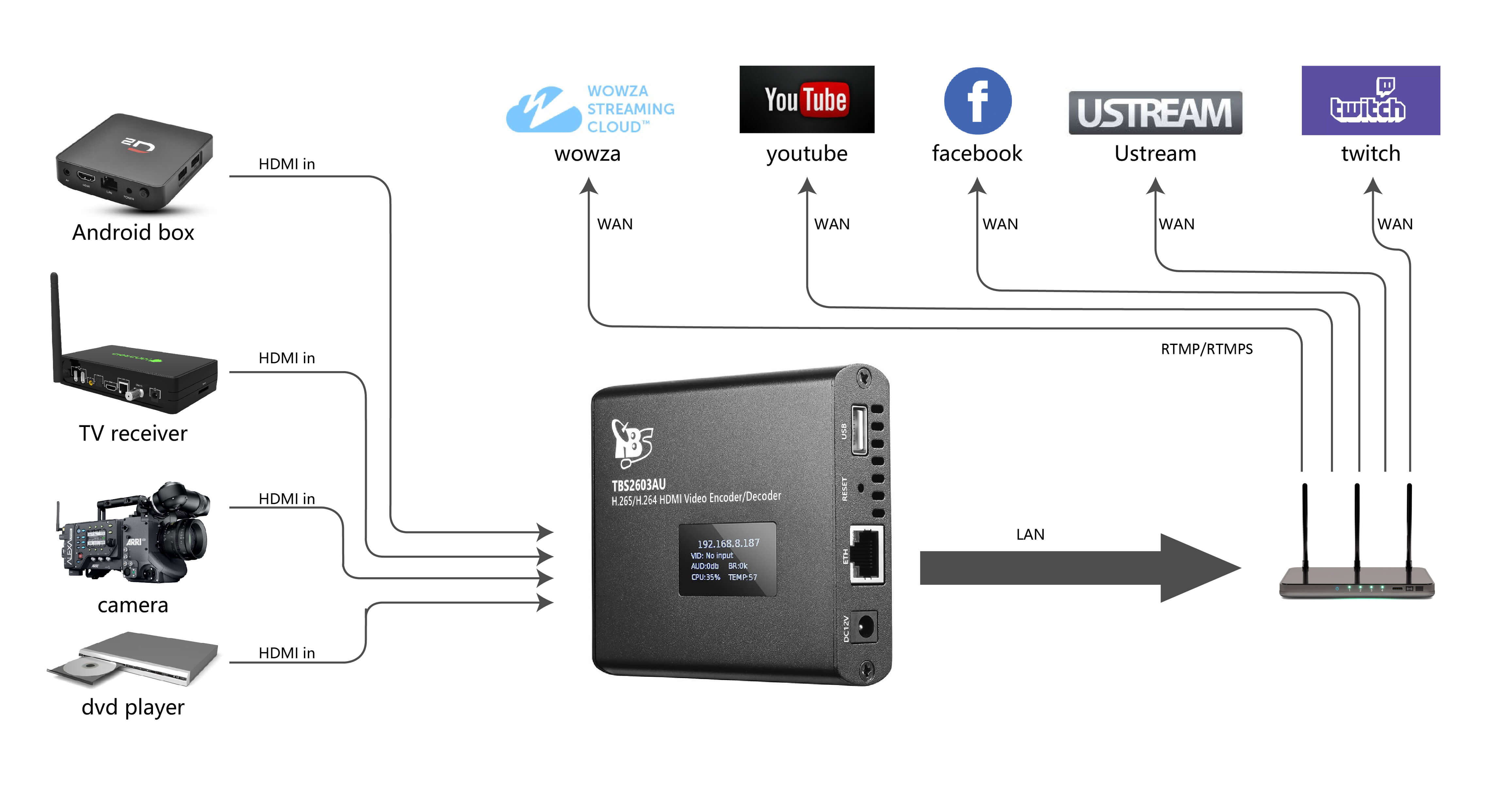 Specification
Model Number
TBS2603au
Video Input
1x HDMI 1.4, NDI®|HX2 streams, 1x USB2.0 from UVC Camera
Audio Input
HDMI-embedded, Line-in (Jack 3.5mm)
OLED display
IP, input video resolution, CPU utilization, Core temperature
Encode
Video Input Resolution
1920x1080P_50/60HZ; 1920x1080I_50/60HZ; 1280x720P 50/60HZ;
720x576;640x480, and etc.
Video Output Resolution
1920x1080P@60fps; 1680x1050; 1280x720; 1024x576; 850x480;
720x576; 720x480; 640x480; 480x360; 360x240; auto; customized and etc.
Video Encode
H264 base line, H264 Main, H264 High, H265 Main
Video Bit Rate
0.5Mbps-20Mbps
Bit Rate Control
CBR, VBR, AVBR, FIXQP
Protocol
NDI®|HX2 HTTP, HLS, RTSP, RTP/UDP Unicast/Multicast, RTMP(RTMPS), SRT
Audio Encode
AAC, MP3, MPEG2, PCMA
Audio Sampling rate
16K, 32K, 44.1K, 48K
Channel
Stereo (R + L) or Mono (R/L)
Audio Sampling precision
16 bit
Audio Bit Rate
32Kb/s ~ 256Kb/s
Network Stream IN
Video
H264, H265
Audio
MPEG2, MP3, AAC
Protocol
NDI®|HX2 stream,HTTP,HLS,RTSP,RTP,UDP,RTMP(pull)
Decode
Video codec
H.265 Main Profile, Level 4.1; H.264 Baseline/Main/High Profile Level 4.2
Audio codec
Mpeg2, MP3, AAC
Source
HDMI in decode; Network stream decode, NDI | HX decode
Record
USB record
To USB flash disk or USB hard disk
Format
*.MP4; *.TS, *.FLV, *.MKV, *.MOV
System
Ethernet / RJ45
1000 Base-T Ethernet interface
Supported System
Windows XP/VISTA/SERVER/WIN7/WIN10 ; Linux; MAC OS
Control
WebUI
General Spec.
Dimension
100 * 60 * 31.5mm
Power Consumption
Less than 6W
NDI® is a registered trademark of Newtek