TBS6301T is a HDMI 4K UHD Video Encoding Card, being capable of max 3840 x 2160P@60fps input and H.265 & H.264 encoding. It is an ideal device for whom need to stream lower bit rate video over LAN or WAN networks – often due to internal network limitations, whilst maintaining high quality video.

A special encoding pattern:
After capturing UHD/HD video from HDMI port, TBS6301T will generate a H.264/H.265-encoded stream by TS packet and output via PCIe connection. In short, TBS6301T can be used as a normal DVB Tuner PCIe card, so it can work with many DVB streaming software, like "DVBLast", "TVheadend" in Linux or "DVBDream" in Windows.
TBS6301T is equipped with a HDMI 2.0 input and a HDMI loop-out port. The PCIe interface allow users to install TBS6301T into any low-profile or full-profile PCIe slot, including fixed workstations such as 2U or 4U ack-mounted servers or media centers.
Main Features
HDMI 2.0 input
Capable of max 3840 x 2160P@60fps input
Supports H.265/HEVC and H.264/AVC hardware encoding
Works like a DVB Tuner PCIe card, streaming by common DVB software like "DVBlast", "TVheadend" and so on
Supports protocol: HLS / HTTP / UDP / RTP / RTSP and SRT.
Support to stream the video in several different protocols simultaneously.
Support to be applied to various IPTV system in the industries of education, health care, conference, news interview, and so on.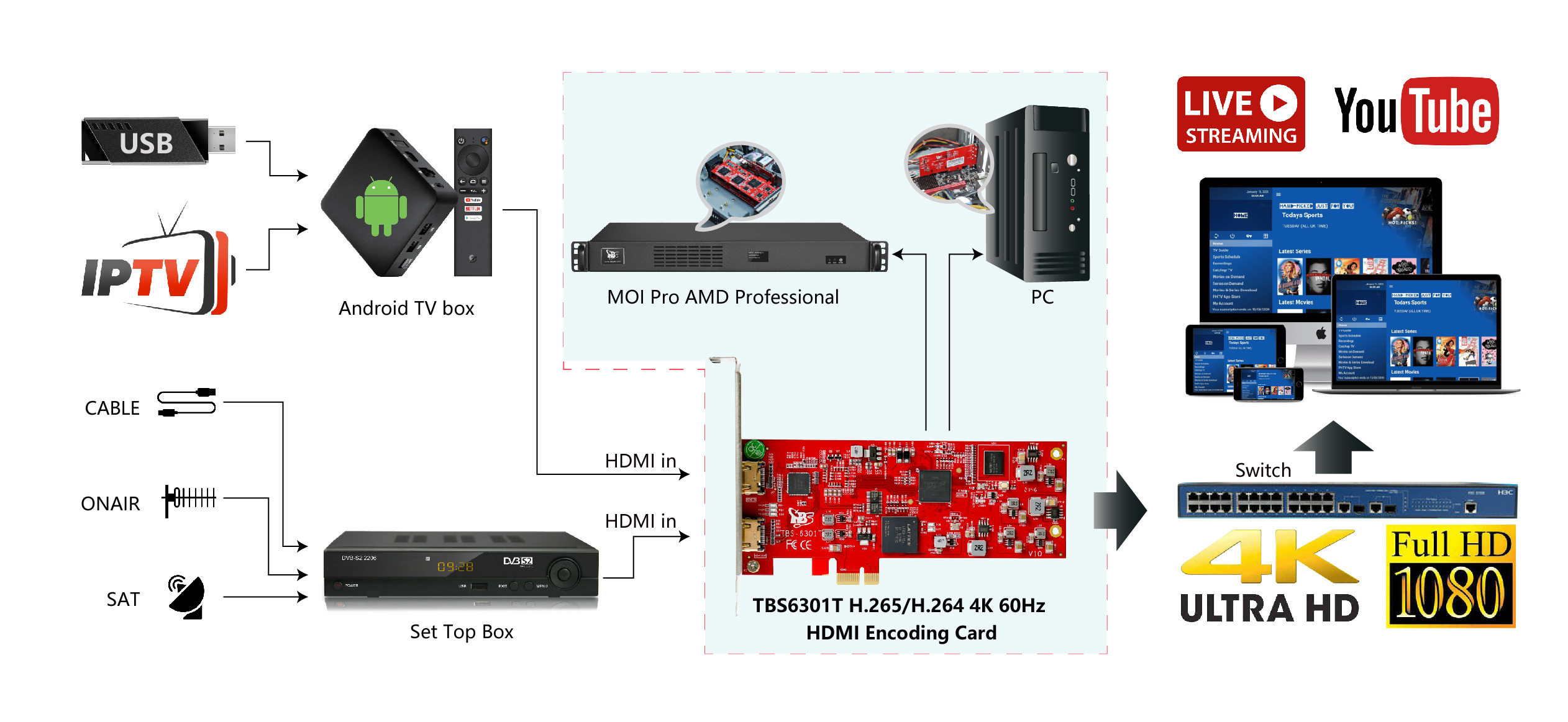 Specifications
Input Interface
1x HDMI 2.0, HDCP2.2
Video Input

Max 3840 x 2160P@60fps
3840x2160/ 1920x1080p/ 1280x720/ 720x480/ 720x576 etc.

Sampling format
YUV4:2:2; YUV4:2:0
Video Encoding
H.265 & H.264
HEVC Profile
Main / Main 10
HEVC Level
1.0 / 2.0 / 2.1 /3.0 / 3.1 / 4.0 / 4.1 / 5.0 / 5.1
Bit Rate Control
CBR / VBR
Bite depth
8bit
Audio Input
HDMI Embedded audio
Audio Encoding
AAC
Data Rate
1Mbps ~ 70Mbps
Protocol
HLS / HTTP / UDP / RTP / RTSP/RTMP and SRT.
Connection
PCIe x 1.0
OS and Driver

Windows: Windows XP / Vista / Windows 7 Windows 8 / Windows 8.1 / Windows 10
Linux: Centos 7.2/7.4;
Ubuntu 14.04/16.04/18.04, or others Linux OS with kernel version 4.4.0 and above

Application
Tvheadend, VDR, MuMuDVB, DVBlast, dvbdate, dvbscan, dvbdstream, etc.
Working Environment

Operating temperature: 0 to 40 deg C
Storage temperature: –20 to 70 deg C
Relative Humidity: 5% to 90% non-condensing