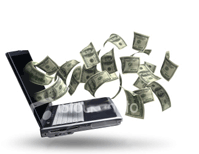 Welcome to TBS affiliate program page. We are offering you a chance to form long-term business partnerships with TBS, an opportunity that you should not overlook! The business world is ruthless and the competition is fierce, teamwork is essential when it comes to success. Take the initiative today and join our affiliate program to start generating extra revenue, for zero costs at all! There is no catch, no up-front payment; even you don't have to spend a dime! It truly is easy to make a name for yourself, why not earn extra cash while doing it? Experience what it's like to run your own business, join our affiliate program today!
Overview
TBS affiliate program essentially allows you to generate revenue for every valid purchase made that originates from your business or non-business channels. Consumers that go through you to purchase from TBS will make you a 8% commission from the purchase total. We will provide you with all the tools and content you need to drive visits and sales to TBS. We have special links that you can use to drive traffic so transactions and other activities can be monitored-text. Use the content and tools that we give you to bring traffic, and ultimately sales, to TBS
For every valid purchase made through your qualified channel/channels, you will receive a commission based on the particular purchase total.
We offer tier based commission so the more you sell, the more you make!
Commission
Three public commission tiers:
8% base commission, this is the standard commission rate.
9% commission when an affiliate reaches US$ 1,000 of sales in a given month.
10% commission when an affiliate reaches US$ 5,000 of sales in a given month.
A private commission of 12% will be offered-text to top affiliates.
All transactions must be in status "shipped" and there must not be complaints filed for replacement or refund requests in 49 days. Commission amounts are totaled on the 15th of each calendar month. The completed order totals include referrals from the 1st to the 31st in the previous calendar month.
If any replacement or refund requests occur with an order made during the previous calendar month for which a commission amount has already been paid, a deduction will appear in the checkout amount for the upcoming calendar month.
How to Join TBS!
Firstly, you need register or own our store account.Then come back to affiliate navigation and click "sign up today". After filling out our application form and activate the account, you can start right now. We'll send you an Email for confirmation. If you have any questions, please feel free to contact our affiliate manager at aff@tbsdtv.com, we will get back to you within 3 working days. Now just join us!